LEARNING KOREAN
LESSON 2
I was thinking of what to write for this lesson hence I waited for comments to have an idea. I noticed that many are more eager to learn how to speak and understand what they hear as compared to learning how to write and read. If only there is a short-cut lane going there, but there is none. LOL. It is a must to know the alphabet first and how they are pronounced. It would be odd to just memorize the words that you hear without having an idea of its meaning.
Truth is, the easiest way is actually learning how to read and write first, because in the process of learning the alphabet you'll discover things that will help you adjust. You're probably wondering what I meant by 'learn to adjust', I'll explain through examples and comparisons.
If you read the word
"KIT"
, whether you're in the US or Canada or any English speaking country you'll probably
pronounce
it the same way and
spell
it as
K + I + T
, same with most English words. We may have different accents but we have the same guide in pronouncing the English alphabet. Unfortunately, the Korean Hangeul can be taught in different ways, especially in spelling the words (due to the KRS & MRS) and the pronunciation may also cause confusion if you're new to the language.
I read comments saying that the Korean Language is confusing LOL. Yes it could be confusing BUT if you know what causes the confusion, it would be easier to understand. It is like learning the terrain before the race, this way you will learn
how to adjust
.

I will write words using 2 different fonts so you can see how a character can sometimes change when combined with others, depending on how people write them. Just like in Roman alphabet, the letters would look differently when written in cursive.

Which one is correct?
All of them are being used. The word above will have more than one Romanization and pronunciation because
ᄇ
can either be
B
or
P
.
When I checked the books and online sites, they have similar Korean spelling but their Romanization was different. Some resources would tell you that
ᄇ
in
final
position will be pronounced as
P
but if it is at the
beginning
, it will be pronounced as
B
. Some would tell you that it would be pronounced as
P
at the
beginning or end
of the word. When I went to a Korean restaurant I heard 3 pronunciations of that word spoken by Korean natives ordering kimbap, kimpap, kimbab. I can't say which one is really correct since all of them are being used by Koreans.
I tried one Korean Language program, it was teaching me how to pronounce the Korean term for
grandfather
:
(see the difference in the way some letters were written?)

When the word was pronounced
per syllable
it was –
ha + ra + po + ji
but when the
entire word
was pronounced it sounded
harabŏji
.
IMO, just memorize the consonants having different pronunciations and Romanization, anyway there are only a few.
The pronunciation guides are in the tables below. Someone suggested that I place a sound file of the pronunciation but then youtube has a lot of vids about that. I'm considering it but for the meantime you can check online resources.
Note/Reminder:
the official Korean Government Romanization system is
KRS
, the
MRS
is the McCune-Reischauer standard. These systems differ in
spelling
as explained in
Learning Korean Lesson 1
. For the phonetics (pronunciation/sound) below, I used the MRS system because many find it an easier guide for pronunciation, but do not forget that
pronunciation and Romanization are two different things
.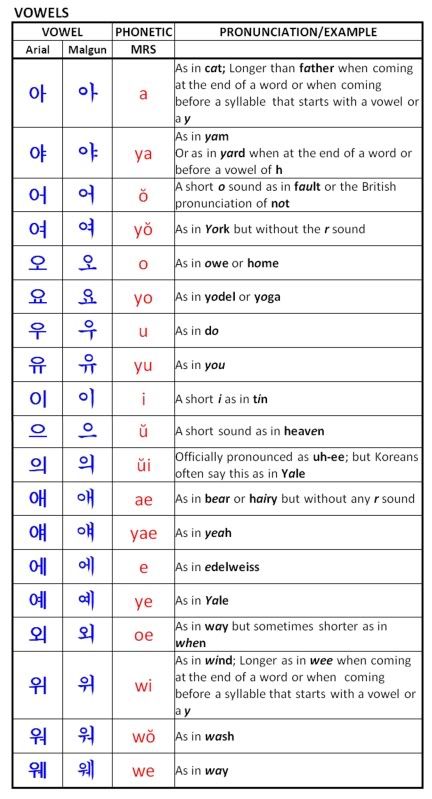 click this for the bigger version -
vowels-pronunciation.jpg
442.02KB
89 downloads
CONSONANTS
(the last 5 are the double consonants)
Don't worry about the vocabulary in the examples. This is just a guide for the pronunciation, you'll develop your vocab later on. The 1st box in the pronunciation guide refers to the position of the character in a word – if it is at the beginning, middle or end. I had problems uploading the pics so I divided it - the 2 are connected.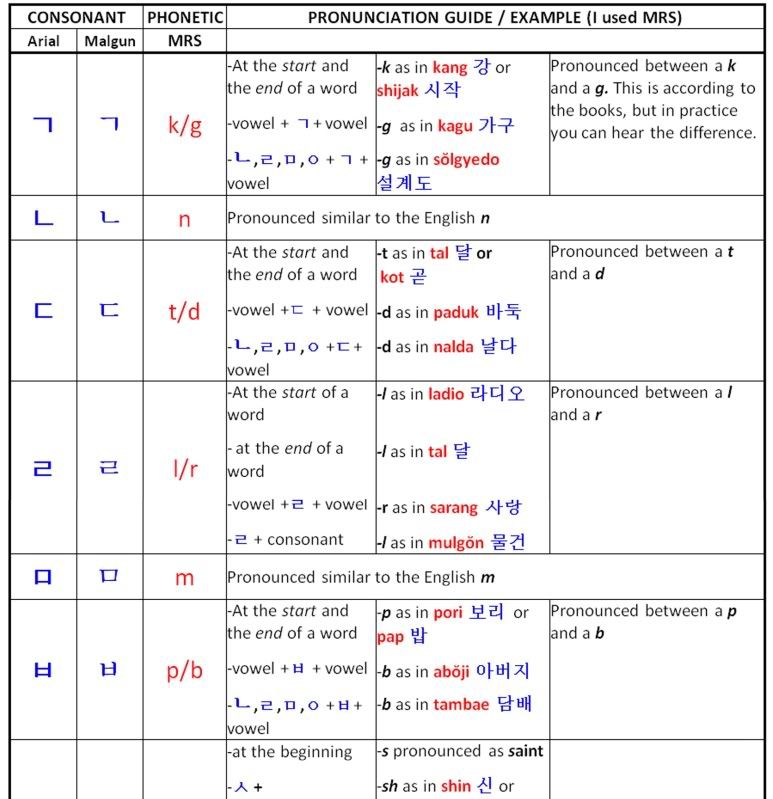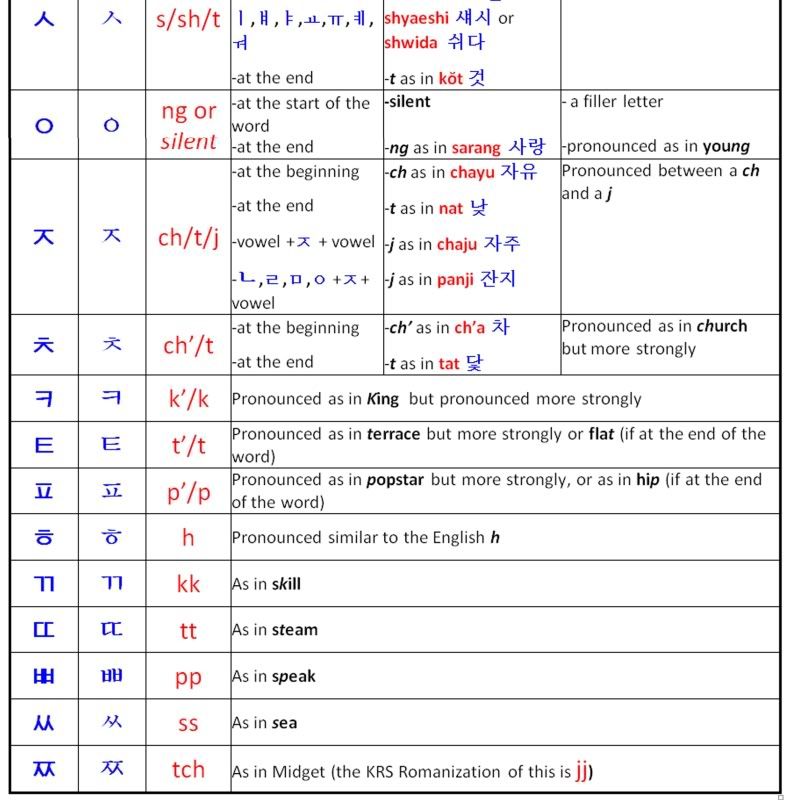 You don't need to rush to learn these. It really takes time to learn how to pronounce the words. Note that the changes in pronunciation depends on the position of the character.
When I was exposed to the Korean alphabet and was still studying the letters, the first thing I asked was
"How do I write my name in Korean?"
I wanted to write my name in Korean to amaze my friends who think I'm having some socio-emotional crisis because of my fascination with Korean dramas.
So why not
try to translate your name in Korean for practice.
I intended to start teaching the blocks but I don't want to overload you with stuff
. Let's just do that next lesson.
From now on I'll also include
vocabulary words
written in Korean so we could improve more on our vocabulary… and
for your practice try to Romanize them
.
You can post your answers here, in spoiler tags then we'll check if they are correct.
VOCABULARY
(for this lesson the words are arranged in a way that could also help us practice pronunciation)
Words with vowels
1. 아이 – child
2. 우유 – milk
3. 여우 – fox
4. 오이 – cucumber
5. 이의 – objection

Words with consonants
1. 구두 – shoes
2. 누구 – who
3. 모자 – hat
4. 바지 – pants
5. 아빠 – Dad

Combined
1. 동생 – younger sibling
2. 은행– bank
3. 사랑– love
4. 학교– school
5. 경찰– police