SCT Transcriber's Mini Guide:

Transcribing is easy since we just basically copy the lines from the images and we're done!
But I've seen some cases from different dramas that have problem lines due to the bugs/errors of the ripping software that we use.
So, I have taken some examples from different transcribe projects just so you are aware of what to do
the next time you encounter it in another project. Let's start!
1. Distinguishing the font used for dialogue lines.






2. Text (Episode/Places/Names)

We use the explanation button ( -= =- tags) for names, places, and episode. Examples were taken from King Gwanggaeto.





Sometimes, you can see the name along with the dialogue of the character.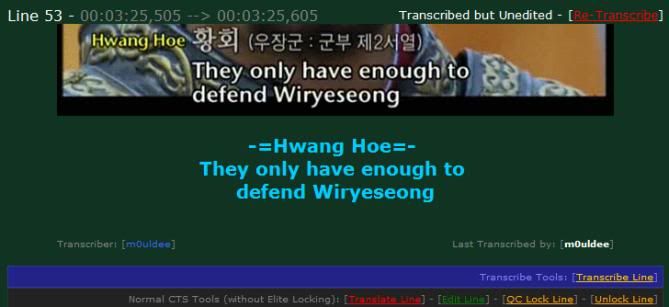 For two names:



3. Which lines to DELETE


a. We don't transcribe the title of the drama. So we delete it by typing in [.]
or you can just click on the gray box and you will see several buttons there including the "delete line".
Click on that button and the line will be deleted.



b. Commercial lines. You can easily distinguish if the line is still a part of the drama or
it's just a commercial basing from the text/fonts. These examples were taken from King Gwanggaeto.







And it is usually written either on the left or right side.







Others types:




4. Incomplete lines


a. For two speakers, there is usually a dash (-) before the dialogue.
The image should look like this:







If you can't see the other line below or the second dash corresponding to the other person's line, please leave it as it is. Do not transcribe the line. The uploader or person-in-charge will be the one to fix it.

Example:






b. In some cases, you will see a line which is not complete or the picture/image has been cut off. This is due to a bug/error of the software used. Again, please DO NOT transcribe such lines as well.
It will be fixed by the person-in-charge.



5. Blurry/Unclear/Superimposed lines
There are some unclear/blurry lines wherein you could hardly read the dialogue.
This happens when there is a transition between lines.






Please be advised not to transcribe it even if you see the words and could do it by guessing the meaning of the line. Don't transcribe the line, just LEAVE IT AS IT IS.
That's it. I hope this helps. If you have further questions, just send me a private message.
And if you are interested to learn the ripping process, you can visit the guide made by jamiepeach here--> http://www.darksmurf...k-in-progress/'>Hardsubs Extraction Guide