Hi everyone!

Another year has passed and even though things have been a little quiet here at DarkSmurfSub (DSS), we are bigger and better than before thanks to DS and everyone who helped with the subs and the forum. Thank you for all the support and we hope 2014 would be an even better year for DSSers.
In line with the improvements, we would like to inform you of the latest staff updates. DSS is a big family, a big community and we welcome those who would like to join our different teams.

DSS Goal: to produce and share fast and quality subtitles for all.
DSS Organization:
Darksmurfsub now has 10 teams distributed in 2 workgroups:
The Wonderland
- has different teams concerned with the site forum section.
Discussions Team - creates and maintains forum discussions and content.
Graphics Team - designs the site graphics, logos, siggies, banners, posters, and others.
Public Relations Team - promotes DSS and the new subtitle releases to other sites such as soompi, twitter, facebook, and others.
Recap & Review Team - the DSS group of writers who handles episode recaps and reviews.
Welcome Team - orients the new members and helps them explore the site.
The Dungeon with the Subtitle Creation Teams (SCT)
- covers the different stages of subtitle creation
CTS English Team - Subtitle creation: translates, edits, and QCs English subtitles
CTS Non-English Team (NET) - Subtitle creation: translates, edits, and QCs Non-English subtitles such as Spanish, French, Thai, Malay and many more.
Timer Team - Post process: fixes timing issues and re-syncs CTS releases.
Transcriber Team - Subtitle Preparation: rips existing subtitles to create soft-subs.
Uploader Team - Pre-creation of subtitles: adds and sorts out new releases, coordinates with DSS partners/affiliates such as Area 11 for available subtitles.
Below is the Organizational Chart of DarkSmurfSub: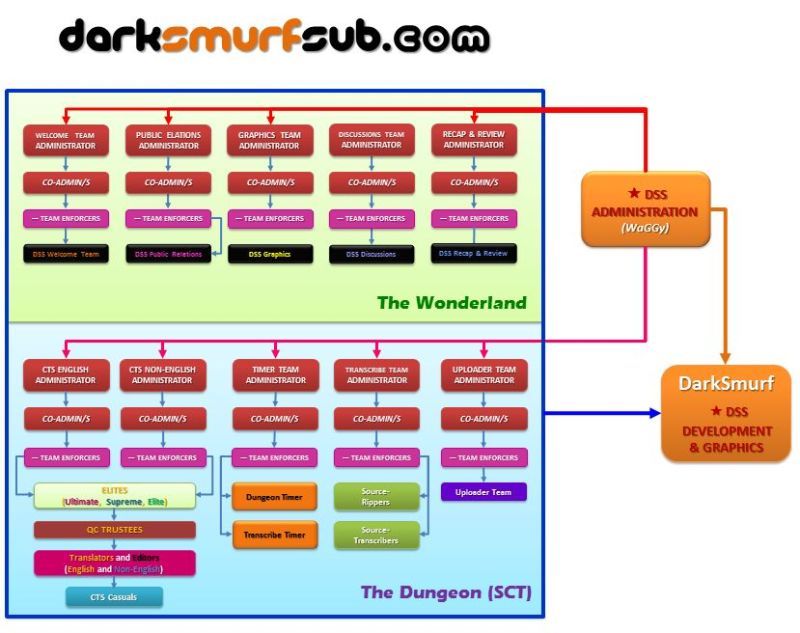 DSS Founder:
★

DarkSmurf
DSS Administrative Founder:
★

WaGGy
The Wonderland (Forum) Administrators
Awards:
♔

krstjb
Discussions:
jessyj
Co-Admin: Nee-chan
Graphics:
♔

nonski
Public Relations:
♔

MSKpoplove
Co-Admin: ♔ united06
Recap & Review:
♔

diorama
Co-Admin: ♔ nonski
Welcome:
♔

Asiiiiiiiiiiiiiiii
The Dungeon (SCT) Administrators
CTS English:
♔

milkyway
CTS Non-English:
nami
Timer:
BloodyFalcon
Transcribe:
zestybeta888
Uploader:
♔

m0uldee
**Current co-admin for The Dungeon Teams:
♔

milkyway
For Applications -
Staff Recruitment
If you have questions about DSS or a particular team, feel free to PM the Admin or co-admin in charge.