LEARNING KOREAN
LESSON I
'Learning Korean' is one of our projects on this site. It is the last on the list since we have more useful projects on the way, but while doing those other projects I sometimes come across issues and terms that are apt for this thread, so before I lose them (since I often have connection problems) I'll post them here.
While doing the
Subtitle Guidelines
, there had been discussions about what spelling to use: should we go with the more popular ones used by other subbing teams or with the latest revision initiated by the South Korean government. The questions of what (to use) and why (use it) were settled through popular vote, but the OCD in me won't settle for that so I continued reading.
This topic may seem a waste of time for others who are too lazy to read, can't blame them. Most people came here just to download the subs and not to learn Korean. But for those few people who someday wish to watch Kdrama without subs, this topic would be helpful.
Since I'm not a native Korean speaker, I'll try to explain it the simplest way possible, the way I understood it in class and in the books I'm using. I won't go into much detail, like the arrangement of the letters (or jamo) since it also drives me crazy. I'll just choose the important topics needed to get started with Korean.
I'm also not an expert so if you have corrections or questions, let's find the solution together. More heads are better than one...it is good if we learn together
A brief History of the Korean Alphabet
Koreans call their alphabet Hangeul. It was created during the reign of King Sejong (R.1418-1450) during the Joseon Dynasty. In 1446, the first Korean Alphabet was proclaimed and originally named Hunmin Jeongeum, which literally meant "the correct sounds for the instruction of the people."
The creation of the Hunmin Jeongeon was a truly remarkable accomplishment. Creating consonants based on a person's speech organs and vowels based on the shapes of the sky, land, and man was truly an unprecedented process. King Sejong and the scholars of the Jiphyeonjeon, creators of the Korean Alphabet, considered human sounds as being more than mere physical phenomena. They adhered to the principle that human sounds and all universal phenomena are all based on the Yin-Yang (positive-negative) and Ohaeng (the five primary elements: metal, wood, water, fire, and earth).
Features of Hangeul
Direction of writing:
Until the 1980s Korean was usually written from right to left in vertical columns. Since then writing from left to right in horizontal lines has become popular, and today the majority of texts are written horizontally.
Number of letters:
24 = 14 consonants + 10 vowels (21 if you add the double vowels). The letters are combined together into syllable blocks.
Example (jpeg format so we can see it better):
The shapes of the the consontants g/k, n, s, m and ng are graphical representations of the speech organs used to pronounce them. Other consonsants were created by adding extra lines to the basic shapes. The shapes of the the vowels are based on three elements: man (a vertical line), earth (a horizontal line) and heaven (a dot). In modern Hangeul the heavenly dot has mutated into a short line. The sounds of some consonants change depending on whether they appear at the beginning, in the middle, or at the end of a syllable.
Spelling
(I noticed this to be the most debated part)
The confusion in spelling is due to the different Romanization systems used. There are two (2) most commonly used systems:
1.
Revised Romanization of Korean (RRKS)
– which is primarly used in South Korea and is the Official South Korean transliteration system introduced in July 2000.
2.
McCune-Reischauer System (MRS
) – which was devised in 1937 by two American graduate students, George McCune and Edwin Reischauer, and is widely used in Western publications.
What is the difference?
The table below will show you.
VOWELS
(I got this from my notes so the arrangement is mixed, but I think it is easier)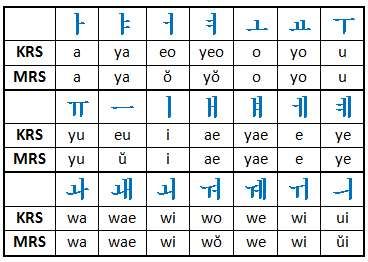 CONSONANTS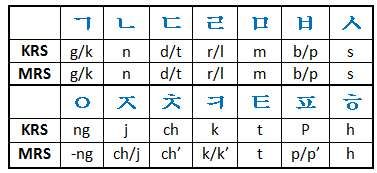 So what caused the spelling confusion?
This is best answered using examples.

Since most subbers don't know how to write this –
ŏ
– they end up making it
Aboji
, instead of
Abŏji
,
but the spelling
Aboji
doesn't really follow any accepted system (KRS or MRS). Like what I've written in the other thread (
http://www.darksmurf...sions-spelling/
)
ŭ is not = u
ŏ is not = o
Another example is
형
(I made this bigger so we could identify the letters better)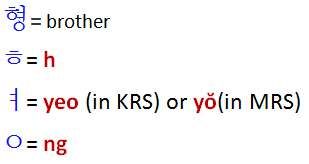 Putting them together we have
hyeong
or
hyŏng
but most subbers write it as
Hyung
, which is close to how the word is pronounced BUT it is not the correct Romanization of any system.
Common words affected by this confusion in spelling are:
Eomeoni, hyeongje, eomma, harabeoji, halmeoni, eonni
For those who want to learn the language, in my opinion, it is better to use the Romanization Systems properly. Choose one that you feel most comfortable with and follow the rules. I noticed most people use the MRS but can't type the letters
ŭ
and
ŏ
properly.
For additional information, it is called a
Breve
and if you want to
type
it, use:
ALT + 0335 for

ŏ


ALT + 0334 for

Ŏ


ALT + 0365 for

ŭ


ALT + 0364 for

Ŭ
Now, if the program/system you're using can't generate those letters (or if you simply forgot how to do it), out of respect to the Korean Language better use the other system instead. Don't make your own Korean phonetics LOL.
If your current
fonts
do not support the Korean letters look for these fonts:

If you read this post you'll be able to understand what is written beside the font names
---------------------
UPDATE
QUESTIONS & ANSWERS:
teah
asked:
"quick question when you spell father why is there an 0 in front of the A letter."
Below is my post and answer to this question
.
Quicklink
: [
http://www.darksmurf...dpost__p__7888]
The simple practice terms are also found there
Please put your answer in a spoiler code [spoiler ] text [/spoiler ]
(just remove the space after r when you write it)